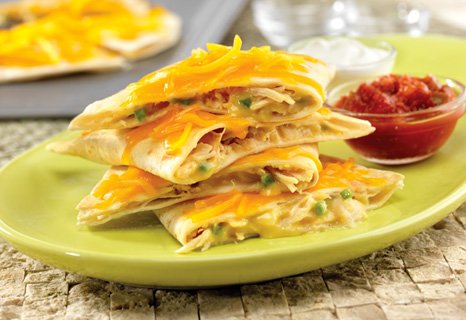 Ingredients:

1 can (10 3/4 ounces) Campbell's® Condensed Cream of Chicken Soup (Regular or 98% Fat Free)

1 cup shredded Cheddar cheese (about 4 ounces)

1 jalapeño pepper, seeded and finely chopped (optional)

2 cans (4.5 ounces each) white chunk chicken breast in water, drained

8 flour tortillas (8-inch), warmed

Chunky Salsa

Sour cream

Heat the oven to 400°F. Stir the soup, 1/2 cup cheese, jalapeño pepper, if desired, and chicken in a medium bowl.

Place the tortillas onto 2 baking sheets. Spread 1/4 cup chicken mixture on half of each tortilla to within 1/2 inch of the edge. Brush the edges of the tortillas with water. Fold the tortillas over the filling and press the edges to seal.

Bake for 10 minutes or until the filling is hot. Sprinkle with the remaining cheese. Serve with the salsa and sour cream
Recipe shared from: www.campbellskitchen.com